Welcome to the Sacred Life Horse School of Alexandra König.
Thank you for finding your way to CHI HORSING!
What is chi horsing exactly? 
Do you want to become the best friend of your horse?
Do you finally want to understand what your horse wants to tell you with each of its movements and how your horse categorizes your body movements and the positions you take?
Do you want clarity in the subtle exchange of information between you and your horse and easy teamwork without force?
Then try chi horsing®! Learn more about horse psychology and how differently horses mirror us depending on their character!
Alexandra translates the horses' language for you in every detail! Simultaneously, you will learn non-violent communication for all your relationships!
Your horse is an unerring coach, who is by your side every day and based on your connectedness with each other it feels exactly what is life-improving for you. By learning to understand your horse's language and how your horse conveys these messages in its behavior daily, you will be able to independently develop step by step alongside your horse in the future.
Learn the language of horses
AND LEARN ALL ABOUT FULFILLING RELATIONSHIPS WITH HORSES AND PEOPLE
COMMUNICATION WITH HORSES
Do you hear your horse's message? We will help you!
Chi horsing® describes a way of handling horses with the possibility of personality development. By learning body language, horse psychology and understanding our individual energy radiation, a mindful and always peaceful communication is possible.
Alexandra König does not train a single horse; she only listens and talks to them. And that is what she also what she teaches!
With the knowledge of horse language, you can learn to read and understand every human-horse pair or communicate immediately with any wild or domesticated horse. At the Saliho School, you will learn the entire grammar of horse language!
The natural behavior of horses resembles a game of strategies, mental and physical agility, the exploration of true devotion and flexibility and the instinctive search for empowering and life-affirming behaviour. In its perception, a horse will, first of all, distinguish whether it feels a male or female force as soon as a person stands in front of it.
In communication towards establishing a peaceful relationship between human and horse, your horse will show you who you really are – whether you suppress a lot, avoid or work with demonstrations of power, which in the end will return negatively to you like a boomerang. The horse recognizes ethical principles and thus life-affirming concepts in your actions – if it finds these qualities in a person, it will never want to let go of them.
Chi horsing® does not work with training methods or dressage! However, it also does not get in the way of whatever you want to achieve with the horse, as soon as you have established a good and sound relationship with your horse.
In the first step, we always communicate only with the free horse, so that it make free decisions about our actions until the person has become aware of all the information his movements and energies conveys and can answer everything the horse asks. The always applicable horse language, therefore, does not only begin at the riding arena but whenever you approach the horse up to 5 metres in the paddock or stable.
The horses individually determine the order in which their owners can advance and what corresponds to the developmental stage of a given person in order to jointly work hard for an optimum of a highly qualitative relationship.
Vitality, harmony and joy are the goals of chi horsing® – for people and horses…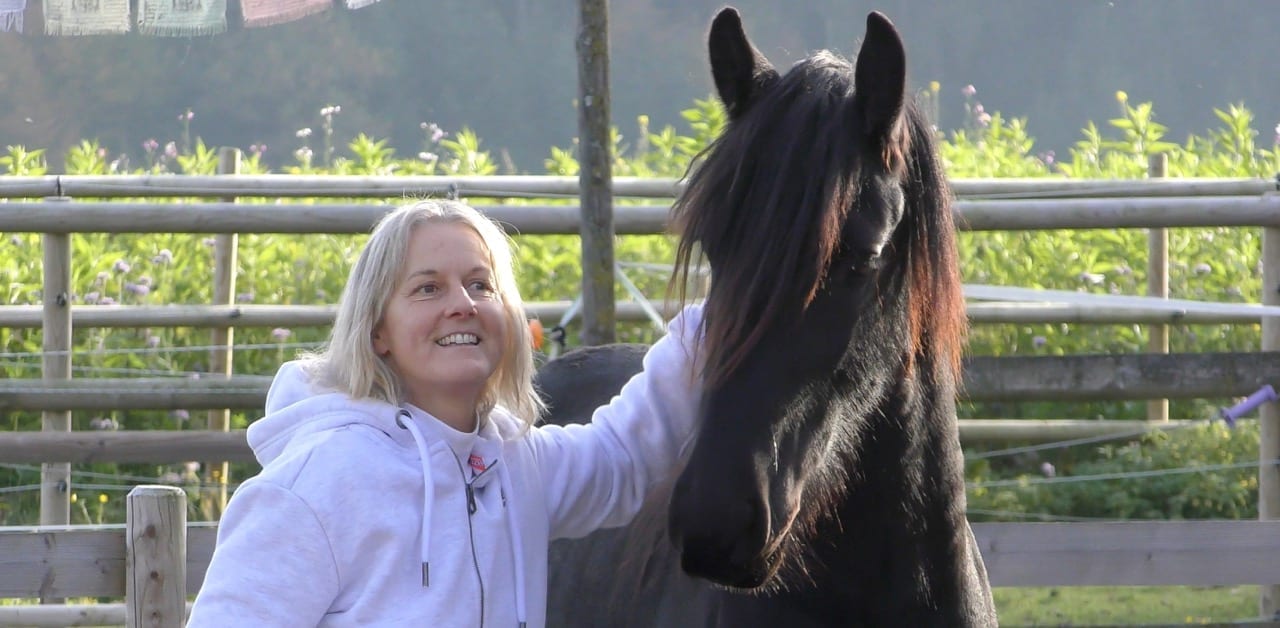 With the instinctive, natural and life-affirming behavior of a horse, chi horsing® enables you to see for yourself every day where you may enrich your life, that of your horse and the life of your private relationships with more presence, wisdom and the finest communication. The horse as your personal coach will show you daily how you will achieve the maximum of your existence full of lightness and peace with a minimum of energy consumption and how in a matter of seconds you end up back in the spiral of violence with carelessness and unconscious behavior.
In my live or online seminars, you will be equipped to recognize the complex interrelationships between your inner attitude, the effects of your experiences and impressions and their reciprocal interaction on one hand and on the other hand, you will learn to understand your horse and to give the right signals yourself. You can then continue to work at your own pace and with your own individual approach.
Learn more about chi horsing® here on my homepage!
Cordially,
Your Alexandra König
Coaching with horses
Our course offer for you