With our online seminars, we want to give you an easy introduction to chi horsing from home. In each online seminar, you will benefit from Alexandra's footage collected over the years and her experience with horses and students. With lots of video sequences from her practical work, all individual steps are illustrated.
Our online seminar footage is located on a subpage of our website, to which you will get access once payment is completed. This access has no time restriction. Thus, you can learn independently according to your own schedule. This also means you can work with the online seminars for years.
Available in English are 2 of 4 online seminars that systematically build on each other:
online seminar 1 "Basic Knowledge", and

online seminar 2 "Advanced Knowledge (chi horsing in practice)".
Expected in the next couple of months:
online seminar 3 "Matter and energy Part 1" (Deciphering the horse's language in detail – translations of the horse's "words spoken" based on its body movement, facial expressions and radiating energy by Alexandra König.)  and

online seminar 4 "Matter and energy Part 2" (including lots of studies of students and their mirroring horses, and Alexandra König's entire correction work of the traumatized PRE Pablo) will be available in the next couple of months.
Stay tuned!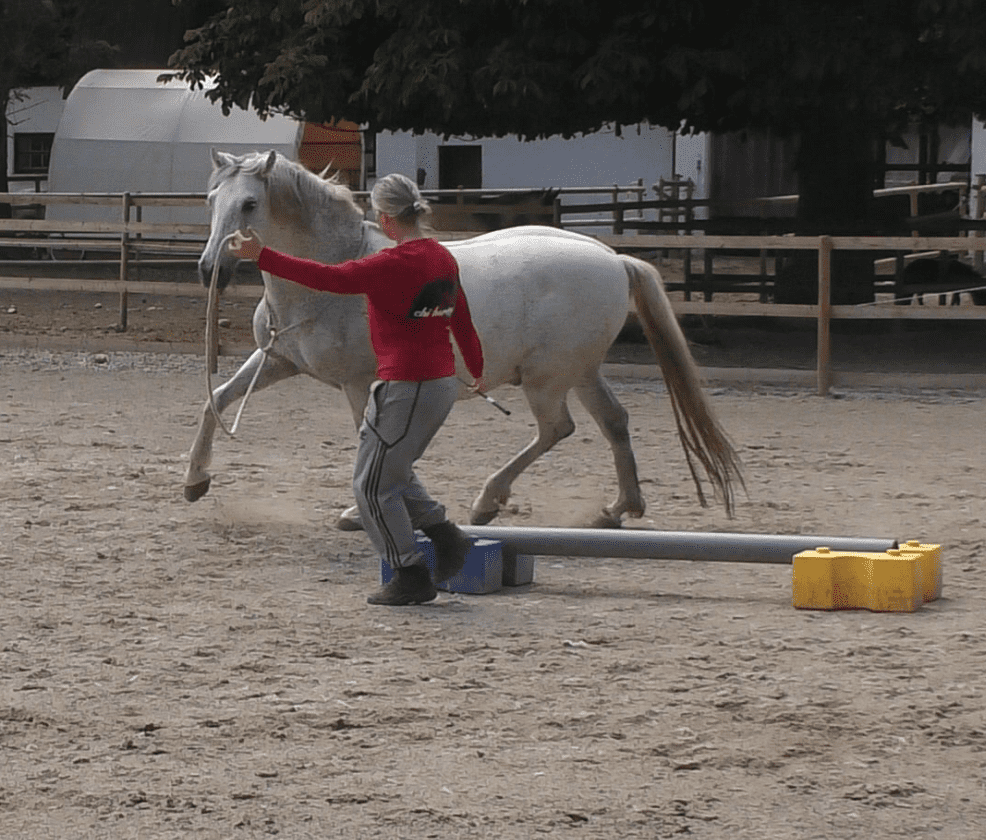 Feedback from course participants
Dear Sandra,
After the first viewing of both online webinars, I want to thank you from the bottom of my heart for your wonderful work! Your care, attention, your sincerity and clarity and above all one can feel your love every minute in each video sequence.
I could understand many things easily because I have experienced some of them in similar ways with my horse. Many things are also totally new to me. I gladly accepted your material suggestions and bought halters, knitwear, and the book about Qi Gong already.
I have been travelling a long time on my own personal awareness journey and therefore the topics I am talking about are not new 😉 But now is the right time to fully embrace the peaceful and joyful path with my horse 🙂
Today I want to say a big "Thank You"! It's just unbelievable how many new insights and new perspectives I have already could talk away. My notebook is almost overflowing. I have found myself in so many situations that Alexandra has described and now I could finally understand why my horses behave like they do (in my presence). What they want to say, how they feel and why. All these new insights and points of views accompany me also a lot in daily life and whenever I encounter a horse… I also would like to mention how impressed I am by the high professional quality of the videos. Lively, multifaceted, yet still calm. I don't know much about technology, but they are super easy to follow and a lot of joy to watch….
Dear Saliho Team,
The online seminar1 "Basic Knowledge" has changed me and my horse! There is a kind of softness developing right now and also a strength, which makes us feel like we finally arrived.
Dear Mrs. König, Dear Saliho Team, Dear Mrs. Bauer,
Wow, I can only say how impressed I am. I lack the words to really describe it. Yesterday evening, I watched Part 1 of the online seminar 1 "Basic Knowledge", and to find a human with such charisma and such a high level of energy, combined with such well-founded expertise, is something exceptional. It is such a great pleasure to learn from one of the best and I will do my best to learn and improve my weaknesses. It's exactly what I was looking for.
Hi,  the online seminar 1 was super, I really liked it! The video examples for practical illustration were especially excellent because they underpinned the theoretical explanations. All in all, the practical and close-to-life demonstrations have impacted me. :-)) Thank you!
Hello!
This online seminar is incredibly awesome! I think I have never picked up so much and taken away so much.
Amazing! Thanks for this.
Hello dear Saliho team,
I would love to give brief feedback on the online seminar 1 "Basic Knowledge": It is outstanding! I'm currently on a journey of self-discovery. It is like learning to walk again. I still often fall, but with every new step, that one can balance and walk with all your heart, is connected with joy and ease and the knowledge, that I have a wonderful horse full of pride and beauty! Thanks for this gift, I am looking forward to the second part of the online seminar.
Hello Saliho School Team, thank you very much for the online seminar. It has moved worlds inside me in no time! THANK YOU!!
Dear Saliho Team, after many years of horsemanship training and more I have finally understood that more and more techniques and methods are being invented, which are exhausting because they work against the nature of the animal. Finally, someone who explains the "language" of the animals, and I could totally understand that in your online seminar 1 "Basic Knowledge". I'm looking forward to more episodes! Thank you!
What a gifted way to handle horses. So full of life and ease! Thank you Alexandra König! The online seminar has really helped me! The relationship with my horses is now on a completely different level.
I have been training horses for 20 years now and grew up with them, but the online seminar has opened new worlds for me. I thank you from the bottom of my heart for this gift and hope to get the online seminar 2 "Advanced Knowledge" soon.
Outstanding work! The online seminar is expertly done, and everything is so wonderfully explained. Now I finally understand my horses and their resistances, which we have been working on for many years. Alexandra has put that in a nutshell! Thanks for this. I wish all the people in the world would be educated about how horses really feel!
Thank you very much … very clear and informative and exciting!
Dear Alexandra König, thank you for the enriching knowledge of your online seminar 1 "Basic Knowledge". Apart from the fact that I finally understand the difficulties of my gelding and how this relates to me, what you taught me in this online seminar makes me fully rethink my choices. I have started to rebuild everything in my life, both privately and professionally, and my gelding is my coach 🙂 simply wonderful!
" (…) What Mrs. König teaches is simply amazing! Never have I experienced a horse trainer who speaks so openly, honestly and politely about the truth. And, above all, gives solutions and all the background information you need. I have found myself in so many of her statements that I sometimes sat there and cried. For me, a new "horse world" has been opened up, the one I have always wanted, to be able to understand horses and to work in pure freedom with them.